While visiting Uzbekistan, you will certainly be invited to one of local knife-making workshops. It is a great experience to watch artisans creating knives with old-time techniques using stoves, tools and simple mechanisms like their ancestors did for hundreds of years. One of such workshops can be visited while having an excursion in Bukhara, in the Old City.
Famous Chust Knives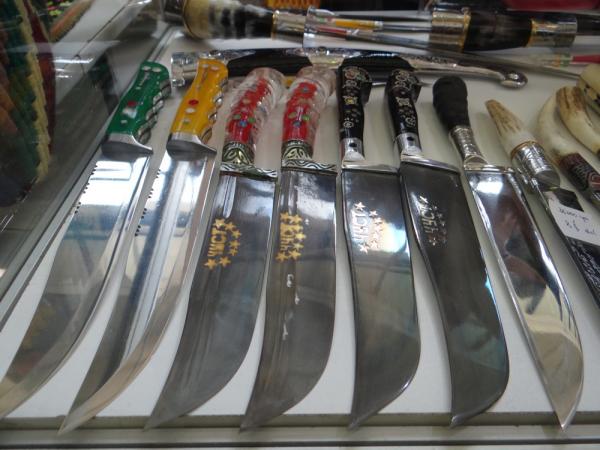 A peculiar branch of artistic metal working in Uzbekistan is that of making knives with a pointed blade, which are kept in a leather sheath ornamented with metal plates, embroidery, applique, and paintings. These knives are called guldor pichok - a nicely ornamented knife - which vary in shape. The blades have local peculiarities - they may be narrow or wide, straight-lined or curved. Their hafts also differ, varying from one piece to those made of parts, wooden or ivory, inlaid or painted.
Various Colors, Blades, Handles and Decoration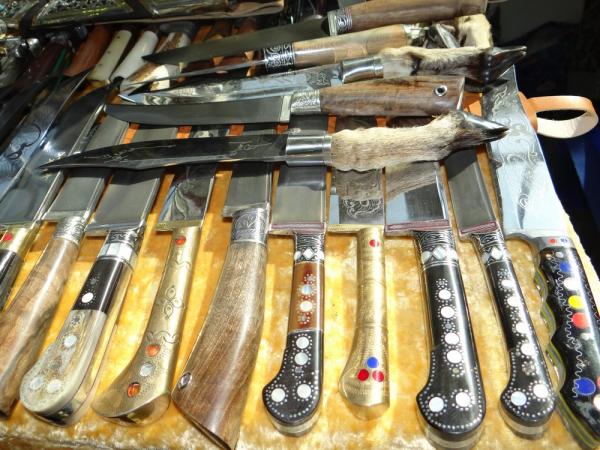 Among all the old centres that produced fancy knives Chust and Khiva still retain their significance. Chust knives are famed for the high skill applied in making them, for their delicate and proportionate shape.
Khiva masters chiefly create unique, richly ornamented knives characterized by an abundance of carved ornamentation, widely entwining from the haft to the steel blade and further along it. The leather sheath is almost completely concealed under big copper or brass plates, and entirely covered with a carved design. This art is influenced by the tradional wood carving in Khiva. At the same time in refinement of design it is com-parable with ornamental paintings of medieval miniatures. For the accuracy of carving this art is equal to that of a jeweller in gold.