In Uzbekistan, ceramics hold a prominent place among the numerous forms of popular applied art. The first specimens of earthenware discovered in the republic go back to antiquities, and in all times the finest pieces of fancy ceramic articles brought to light with uncommon expressiveness and laconism the genuine traits of the creative genius of the people.
Pieces of ancient ceramics or replicas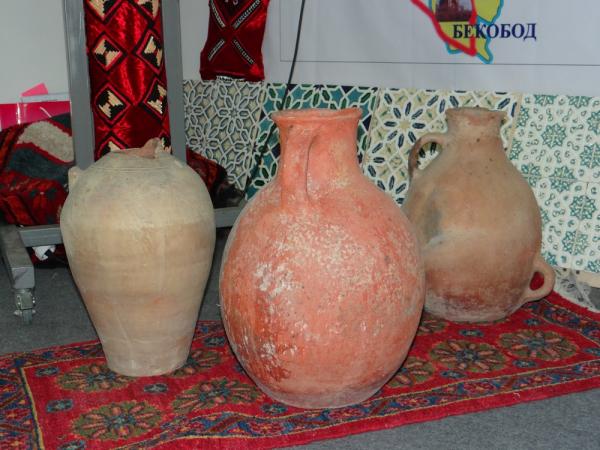 Ishkor Ceramics (White-n-Blue Glazed)
Dishes-lagans, bowls-pials and kossas, vases, jugs, korchagas-khums of various sizes-from huge to miniature, handy and refined in shape - have been in great demand among the broad masses for centuries. They are notable for the high skill used in making them, for the beauty of their shape, ornamentation, the harmony of audacious fancy and sense of proportion in the use of colours. There are two kinds of decorative ceramics in Uzbekistan: kilned unglazed terracotta and glazed ceramics.
A bird - traditional place design
In the course of the last 110-150 years ceramics has centered in Gizhduvan, Shakhrisabz, Samarkand, Tashkent, Rishtan and Khoresm. In recent decades fame was won by the ceramists of Gurumsarai, Denau and Chimbai. The earthenware made in these parts may be divided into two groups of coloring: blue-white-green and green-brown-yellow. Adherence to this specific coloring is accounted for, to a great extent, by the method of handling the materials. In the Ferghana Valley and Khorezm, where ishkor alkaline glaze is used, blue-white-green colors are predominant because yellow and red colors decompose under the influence of ishkor glaze, while blue and green colors produce beautiful bright and delicate shades. Of invariable beauty are all shades of the yellow-red-brown color combination in Samarkand, Bukhara and Tashkent, where lead glaze is applied. In these areas ceramic paintings strike one with their rich, fantastically glowing and refined picturesqueness.

See Excursion in Bukhara to visit ceramic workshops
Fishes
The shape of vessels and their decorative composition hardly differ in various regions, though the ornamented motifs retain their local peculiarity to this day. In the Ferghana Valley the dark blue and light blue vessels are more frequently decorated with a delicate floral-vegetal design, while geometrical elements are of no major significance. This design is justly called a lyric one. The decoration of blue-green vessels by the oldest Khoresm ceramists is quite different. The motifs of their designs are similar to those of architectural ceramics with white interlacement against a dark-green or dark-blue background. This decorative design is characterized by spiral-shaped shoots set in geometrical figures.
Cups and plates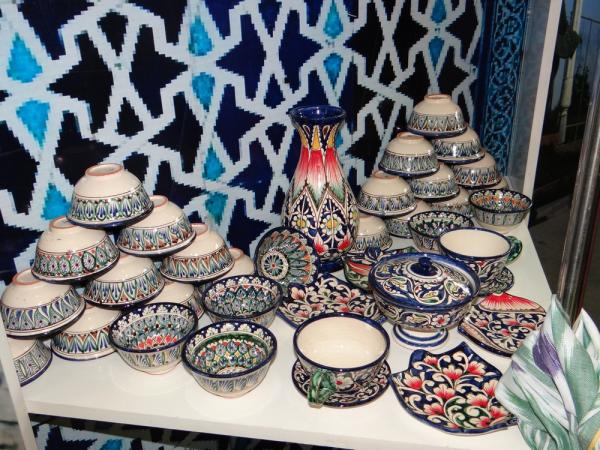 Instead of local ishkor alkaline glaze contemporary Khorezm ceramists use white pounded glass, factory-made lead glaze and various kinds of decorative designs executed in a polychrome tone. It is made up of major simple geometric motifs and abstract portrayals of vegetal designs - rosettes and leaves.
Yellow-red-brown colors in ceramics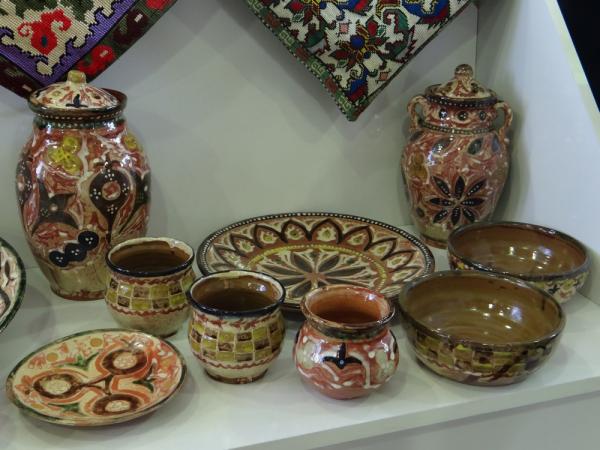 The earthenware of Samarkand, Bukhara and Tashkent is notable for its coloring and way of designing. In these areas old spotted or lustre yellow-green painted designs and expressively painted major vegetal decorative designs are popular; dishes and bowls are decorated with designs of fruit and luxuriant flowering off-shoots. Apart from brush painting, engraving, carving and embossing are widely practiced there.
Floristic design