In traditional architecture of Uzbekistan painting on wood was mainly connected with ornamenting structures for ceilings, stalactite-like eaves, caps of pillars for palaces, louses of cult and splendid mansions, coupled with decorating various objects for the interior.
A carved and painted plate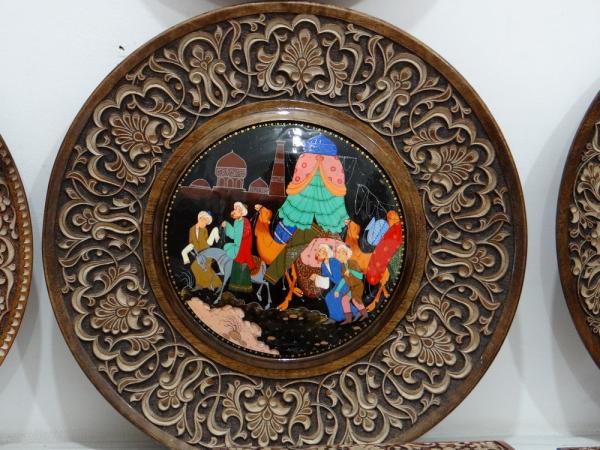 The systems of ceilings - from simple structure of beams and bars with their strict arms to complex many-tier beam and caisson structures dictated various frieze, border and medallion forms of decorating ceilings.
A painted wooden ceiling
A delicate vegetal-geometrical ornament in a rhythmic motion of climping vines, boughs, stylized flowers with delicate petals, coupled with classical motifs created in the ilimi and girikh styles - are limited to the space of a surface. The object is to lighten usually an architectural structure, and remove the impression of weighing down, the earn or plank systems produce.
Another painted ceiling
Masters work on Levkas consisting of bronze and silvery bronze powder. Formally iey used vegetal and mineral paints which they made according to their own recipe. Nowadays priority is given to factory-made paints; the finished articles are, as a rule, overlaid with colourless lacquer.

Present wood painting in Uzbekistan is primarily connected with making ornaments many-sided and round tables, stools, screens, night-tables, frames and caskets.
Painted and laquered boxes
More boxes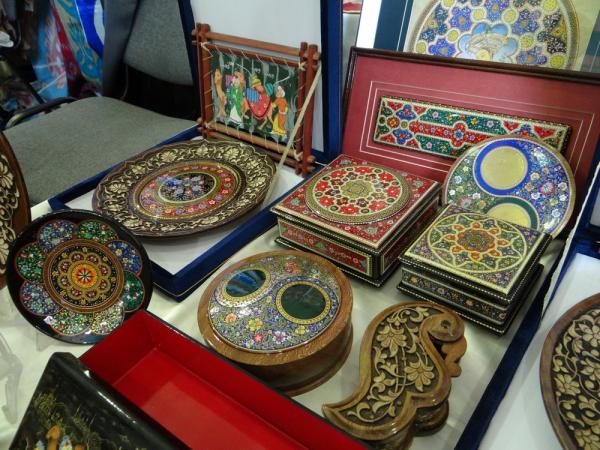 Various items of painted wood art