Jewelry is one of the most well-developed forms of popular art, which has retained its vitality to this day. This art, which was widely popular and rich in traditions that go back to antiquity, is being developed further by contemporary masters.

Being an important addition to attire, and in particular to women's garments, ancient ornaments of jewelry naturally combined with the shape and lines of the attire, matching its color, form and purpose.
A booth with Uzbek Jewelry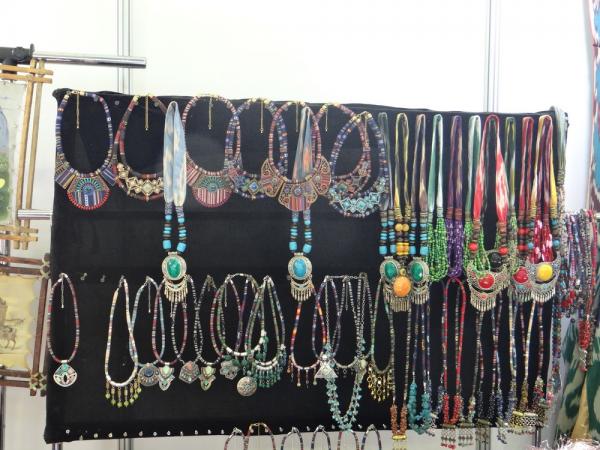 Masters-zargars made articles basically of silver and gold, which was more uncommonly used, combining precious metals with various sparkling gems: rubies, emeralds, sapphires, such semi-precious, lustreless and opaque jewels (bright and rich in tone) as pearls, turquoise, cornelian, jasper and corals, as well as brilliant multi-stained glass, mastic beads - which were widely used since the second half of the XIX century.

Diverse are the methods of traditional metal working, used since olden days by zargars - Uzbek jewellers: cutting, smithing, casting, chasing, engraving, plated and open-work filigree and stamping. The ancient jewellers were skilled in granulating metal, gilding, inlaid work, blackening and enamelling.
Silver and Gold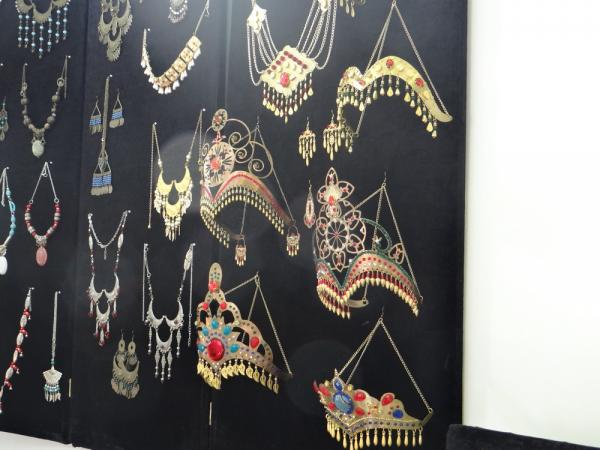 Each of the major centres of jewelry - Bukhara, Tashkent, Khorezm, Samarkand, Kokand, Marghilan and Andijan - was known for its particular forms of jewels, for the material used, ornament and technique. Along with such simple and popular ornaments as finger-rings, ear-rings, bracelets, bead necklaces, intended for everyday wearing, the zargars skillfully created jewels with complex designs.
A Necklace
The most splendidly ornamented and diverse in form were articles intended for adorning women. Row upon row they beautified heads, foreheads, temples, ears, plaits, necks, breasts, shoulders, waists, wrists. The entire set of ornaments was worn by young women in the early days of married life, on festive occasions and receptions. On other days women only wore simple ear-rings, finger-rings and bracelets.

Jewels also formed a part of male attire: kirby-grips for a groom's turban, signet-rings inscribed with the owner's name, girdles with ornamented metal buckles and hasps, inlaid stones, knives and sabres with ornamented afts. Even the harness and saddle of a wealthy man's horse were decorated with jewels.
Wedding Ceremony Necklace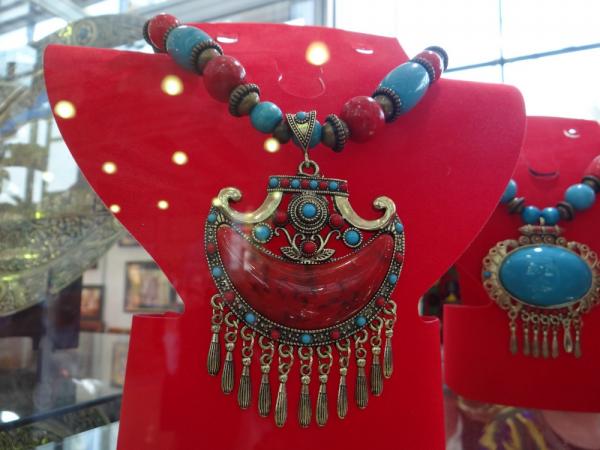 The rhythmic of form and stains, play of lines and planes, mobile system of numerous pendants - held expressive prominence in Uzbek jewels, the bulk of which were based on a splendid combination of silver with corals and turquoise.
Fine Art of Jewelry
There are two trends in the art of jewelry at the fall of the 19th and turn of the 20th centuries. One of these, guided by the tastes of the well-to-do and by the influence of foreign articles brought jewelry to eclectic decadence, artificial pomposity. The other trend was destined for the commoners and was closely linked up with the traditions of popular art. Simple and laconic forms, which had developed in former ages, maintained their artistic feature and quality for a longer period. Therefore it is not by chance that namely these articles are in wide demand today without having suffered changes.

In Karakalpakstan dresses worn by girls and young women were richly decorated with jewels. Elderly women wore simple rings and ear-rings; men wore buckles and plates on girdles, severe rings with but one large stone or signet. The harness of saddle-horses was richly decorated with silver jewels.
Bright Colors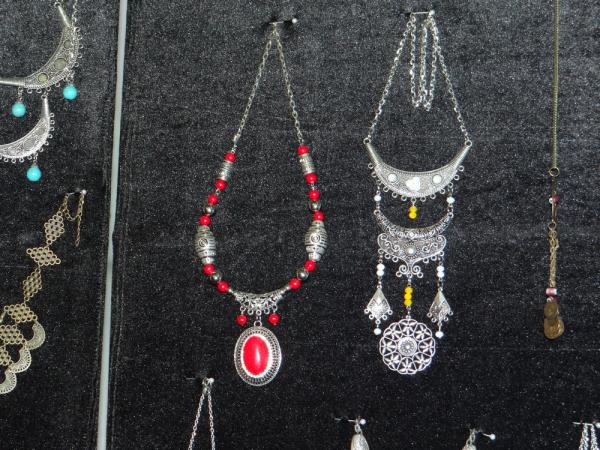 The head-dress of girls and young women was original and attractively decorative. Little caps worn by girls - takya duzi - were adorned with silver plates and crowned with a hollow dome. Saukele - a bride's helmet-shaped wedding head-dress was trimmed with silver plates which were decorated with abstract portrayals of sheep's heads, ear-laps consisting rows of coral beads.

Rings were diverse: arabek - gold nose-rings of round shape - were adorned with spiral curves and small hollow beads. Besides simple round and oblong ear-rings with various pendants, Karakalpak women were in the habit of wearing ear-rings with long pendandts passing under the chin and falling down to the breast. The pendant ended with a fringe of delicate chains with small trinkets to complete it. Karakalpak breast ornaments such as ongir - a particular kind of embroidered bib with small silver plates sewn on - are quite original. A loop-shaped buckle was sewn on to the lower border of the bib, on which keys were hung, or a small dome - ongir monshak - on which light silver chains with little bells were suspended, which tinkled with every motion.
A Pendant
Of no less interest is the khaikel - a figure-shaped breast ornament of the pendant kind, engraved and ornamented with stones and chains with little bells. Breast ornament of this kind are not met with in neighboring countries.

Today the manufacture of gold and silver jewelry is concentrated at the Tashkent Jewel Factory, which was commissioned in 1963 and provided with machinery. It is staffed with skilled workers of various professions. The services of artists, who have acquired special knowledge at learning institutions, and local jewelers, are also enlisted.

Individual jewelers in Bukhara, Andijan, Surkhandarya and other towns and regions of Uzbekistan keep on making ear-rings, signets and bracelets for women to order.

Modern Uzbek jewelry of metals, gems and semi-precious stones: ear-rings, brace-lets, signets, breast adornments made in keeping with national tradition - are very popular all around the world.
Fancifully Designed Pendant for Women
Stones and Silver
Gold and Precious Stones