Popular ganch carving in Uzbekistan is embodied with a rich store of ornamental vegetal and geometrical arabesque constructions, created in the style of plane-embossed carving. The complex art of making volumetrical stalactite cornices - sharafa - from walls to ceiling or to a high round dome, which often fills up the dome - is a particular branch of Uzbek ganch carving. These cornices, ceilings and vaults were richly decorated with polychrome paintings. Using tracery to make gratings -panjara - was another form of decorative work with the use of ganch. Moulding was used in making cornices and gratings.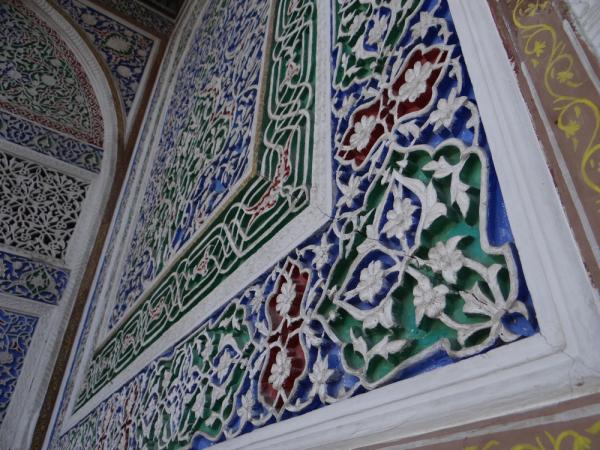 The art and technique of carving on ganch, containing a high percentage of gypsum, lie in its ability to harden quickly. Ganch is treated in a complex way, the main processes of which are: kilning, purification, and mixing up gypsum powder to which gum is added.

The damp gypsum plaster is carved with sharp metal chisels: the outline of the pattern is carved first, and then the background is made deeper and the relief is worked on. There are various traditional methods of treating the relief with sharp or oval subtle chisels. A variety of three-edged groove carving without a background is used primarily in framing. A gracefully designed relief, in particular rosettes, is achieved by turning to account the plastic property of moist ganch and its firmness after setting.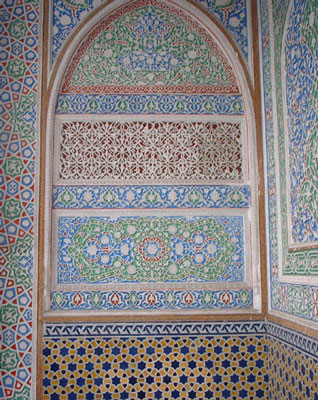 The artistic potentialities latent in ganch are diverse. There are several ways of carving two-coloured and multi-coloured plaster. These devices were widely used in Bukhara and Samarkand in the Middle Ages. Conveying the carving a polychrome appearance was achieved by the subcolour of white gypsum, coupled with light and dark blue or orange-red tones. Shown in the album is a carved panel against a blue setting made in Margilan at the turn of the XX century. This method is still used by contemporary Tashkent masters.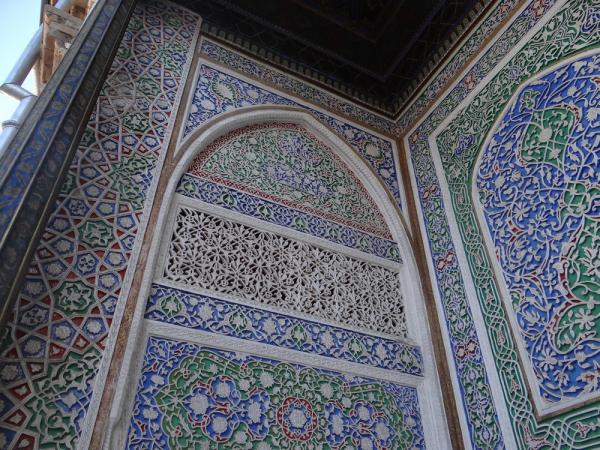 These masters know how to brighten up white ganch, how to fill it up with rhythms and motifs of their own imagination, how to find in ganch melodious plastics of a relief pattern, and how to create a harmony of the capricous material and lines of the pattern.

Having outlived the traditional framing method of local architecture without exhausting its artistic potentialities and local traits, ornamental carving on ganch and wood is widely used in modern architecture. More and more suitable ways of using this art are being discovered, adapting it to the new scale of monumental structure, and conveying a peculiar national colouring to the spaciousness of public edifices today.

Ganch painting is also used for decorating the interior of public buildings, it is arranged on ceilings, many-tier stalactite-like cornices, on vaults of niches and domes. It is forming a compound, keeping to the same rules of dividing the surface of a wall into vertical and horizontal panels, devised in connection with the skeleton structure of dwellings.