Uzbekistan is a country in Central Asia, located along the ancient Silk Road leading from China to Europe. It has been a busy crossroads for caravans carrying goods from east to west, and exchanging knowledge and technologies among countries and nations. As such, Uzbekistan was for centuries absorbing different cultures, traditions and ideas.

One of the attractive parts of any travel to Uzbekistan is seeing its deeply rooted tradition of arts and handcrafts. Unlike other Central Asian nomadic people, Uzbeks were an agricultural nation, and they preserved ancient traditions in many fields of handcraft, like making ceramics, rugs, knives, metal dishes, wooden doors, hand-made paper, and so on.
Uzbek Girl in Traditional Clothes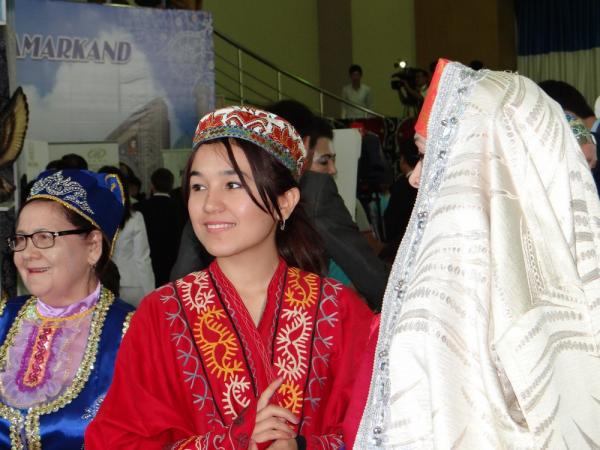 Below you can find a brief outline of what can be seen during a tour of Uzbekistan if your interest lies in old artisanship, manual techniques and skills, handcrafts and art.
See an article about Uzbek Ganch - plaster decorations used for walls, ceilings or gratings.
Home interiors and exteriors are usually lavishly decorated with ornaments and paintings in Uzbekistan
Carved wood products are extremely popular in the country and include dishes, boxes, window frames and doors.
Carved and Painted Dish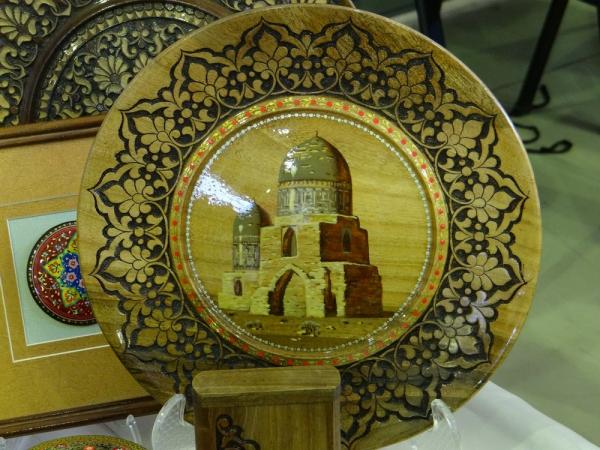 It is an old tradition to make accessories from papier-mache and paint them with laquered miniatures
Laquered Souvenir Boxes
Any civilization starts from making ceramic dishes. Uzbek ceramic is known across the world.
Glazed Tea Cups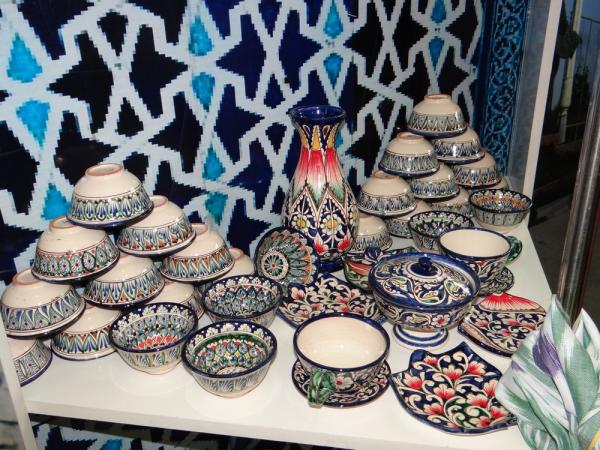 The tradition to make toys for kids from burned clay is accounting for thousands of years in the region of Central Asia.
Ceramic Toys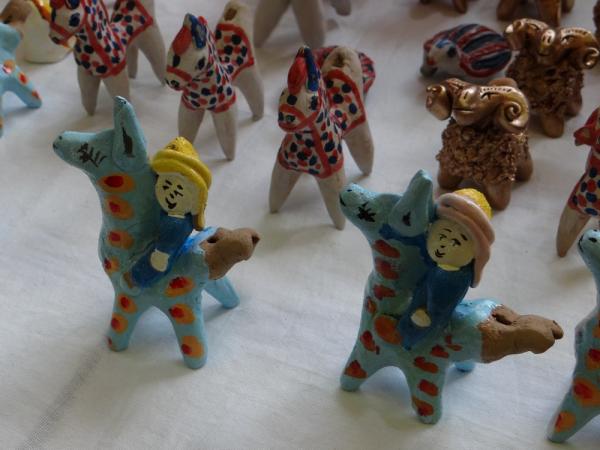 Knives, tea-pots, dishes and other products made of skillfully chased and carved copper and bronze.
Chased and Painted Plate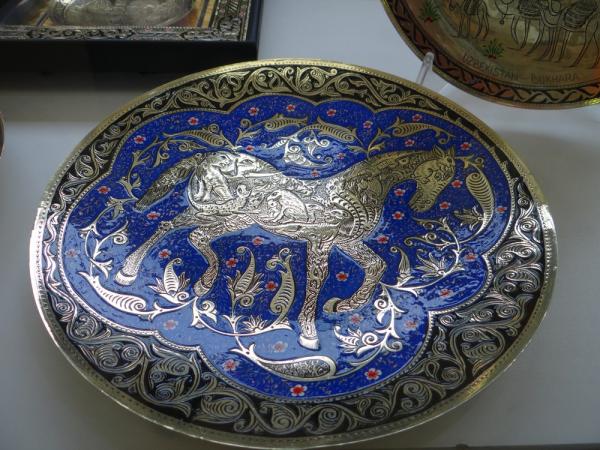 Making Uzbek knives is an art that connects daily needs of peaceful citizens with the nomadic art of war.
Handmade Uzbek Knives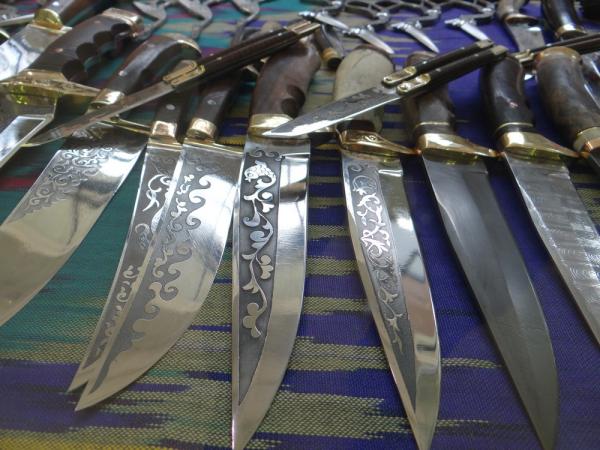 Made of copper, silver, gold and precious stones, Uzbek traditional jewelry is a very special field of art.
Traditional Uzbek Jewelry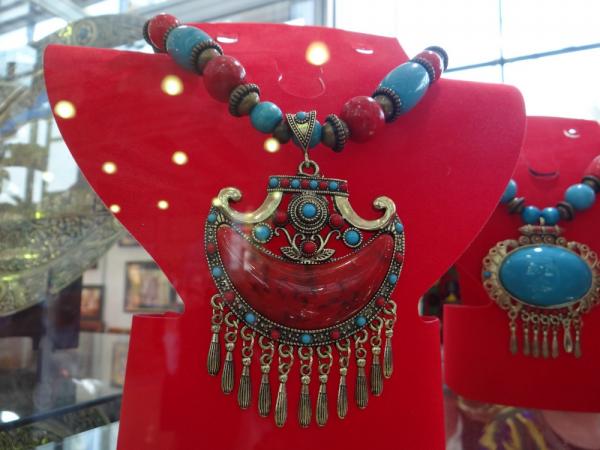 Central Asian silk fabrics had been known across Eurasia for centuries. Till now, the old techniques are preserved and used in making khan-atlas fabrics, manually and in factories.
Block-printed Wall Suzannis
Uzbeks like beautifully decorated garments. Embroidered in painted threads, silver or gold threads, the pieces of clothing are turned into pieces of art.
Uzbek Dancer in Embroidered Garments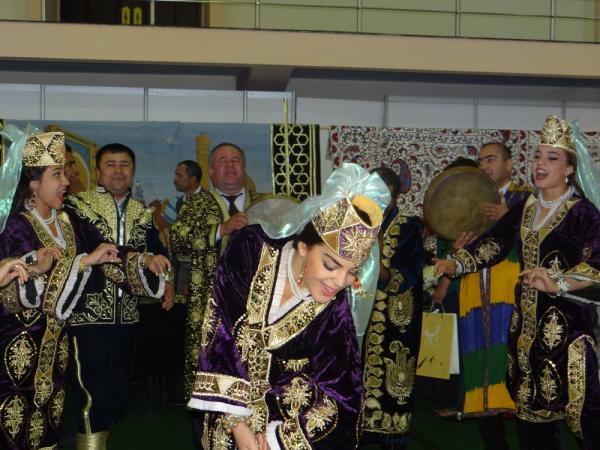 Every Uzbek man or woman must have one or several such skull caps for every occasion in life. They are rich in purpose, models and decoration techniques.
The tradition of making rugs in Uzbekistan is old. It is closely connected with neighbor countries like Turkmenistan, Iran, Tajikistan and Turkey.
Samples of Rugs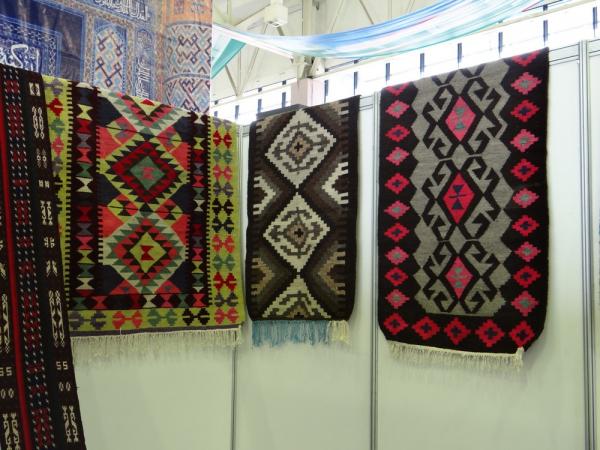 Uzbek leather artisans produce magnificent pieces of art such as purses, leather boxes, etc.