Top Business Companies

Love it Live it

ul Dzialkowa 14a Kraków, Poland

Pizza Ciao Ciao

4 Rzeźbiarska Wrocław, Poland
Pyszna Ciao Ciao Pizza Wrocław ||Tel. 71 347 36 04 || tel. kom. 690 11 68 68 || Codziennie od 12 do 22 || Zniżki dla studentów || pizza wrocław,pizzeria wrocław,pyszna...

Slice of Heaven

Bulwar Ikara 27 Wrocław, Poland
Doskonała pizza to rzeczywiście fajna sprawa dla praktycznie każdego. Nasza pizzeria ma świetną ekipę osób przygotowujących pizzę, które mają możliwość upiec sporo różnych rodzajów pizz, na fantastycznym cieście. Używane przez...
Restauracja Okrasa

Igielna 8 Wrocław, Poland
Restauracja OKRASA mieszcząca się na Starym Mieście we Wrocławiu, w firmowym menu zawiera przede wszystkim dania charakterystyczne dla kuchni staropolskiej. Do dyspozycji bywalców otworzona jest sala otwarta i bardziej prywatna, w...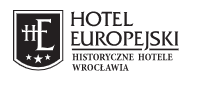 Hotel Europejski Wrocław

ul. Piłsudskiego 88 Wrocław, Poland
Hotel Europejski należący do Historycznych Hoteli Wrocławia, zlokalizowany w samym centrum Wrocławia oferuje pokoje o wysokim standarcie, łącząc tradycję z nowoczesnością. Znakomite położenie hotelu w pobliżu Rynku, Ostrowa Tumskiego czy...