Top Business Companies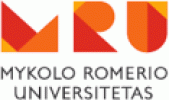 Mykolas Romeris University

Vilnius, Lithuania
Founded 1990. Renamed Lietuvos Teisės Universitetas (Law University of Lithuania) 2000. Acquired present title and status 2004.


Faculties
Administrative Law, Arts and Humanities, Baltic Languages, Banking, Business Administration, Business and Commerce, Chinese,...

Vilnius University

Vilnius, Lithuania
Founded 1579 as Academica et Universitas Vilnensis with two Faculties: Philosophy and Theology. Reorganized 1781 and again 1803 as the Imperial University of Vilnius. Closed by Tsarist Government 1832 when...
Baltic Sotheby's International Realty Lithuania

Gedimino St 35 Vilnius
In cooperation with Sotheby's International Realty® branches in Europe, USA, Latin America and Asian countries, Baltic Sotheby's International Realty provides various real estate services, representing exclusive real estate in Lithuania,...
Vilnius University – International Business School at Vilnius University

Vilnius, Lithuania
Faculties
Business Administration, International Business