From: https://eadaily.com
Main cities of Kazakhstan are paralyzed due to the coronavirus, while in Kostanay, prime ministers of Kazakhstan and Uzbekistan launched joint production of new car models. The Uzbek Prime minister, however, participated in the ceremony through a teleconference.
Askar Mamin, photo from: primeminister.kz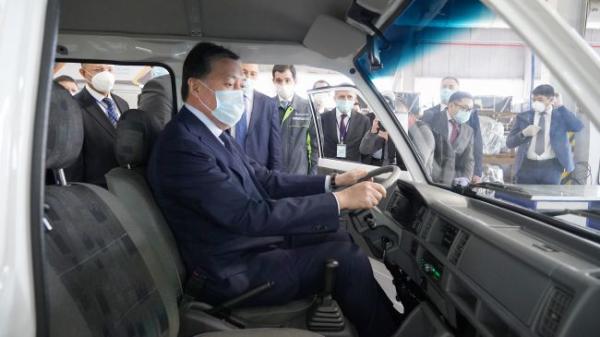 On Saturday, March 28, (2020) Kazakh Prime Minister Askar Mamin and his Uzbek counterpart Abulla Aripov gave an official start to the joint project of SaryarkaAvtoProm LLP and UzAuto Motors JSC. By the end of the year, over a thousand high-value-added jobs will be created on the new production line. Now the plant operates in three shifts with a full load.
Mamin noted the growing importance of integrating production processes in Kazakhstan and Uzbekistan in order to reduce dependence on imports of goods and services from third countries.
Several car makes will be assembled at the new production line, including inexpensive buses and trucks, which should be in demand by small and medium-sized businesses.
This year, Kazakhstan plans to bring the total automotive industry output to 100 000 cars per year, the average level of industry localization should reach 50%, and for commercial vehicles and buses - up to 60–65%.
New production in the time of crisis is a great news. But was it justified for Mamin to travel outside the quarantined and epidemic-ridden Nur-Sultan? In the capital city, 135 COVID-19 positive patients have already been found.