| | | | |
| --- | --- | --- | --- |
| | users: 17499 | | companies: 12593 |

Last updated: 28 Sep 2023
Algeria Business Directory & List of Companies
List your Algerian company in our business directory and start to advertise your business on the Internet. Use the multiple built-in features to publish your products, services and goods online, track and improve your online reputation and client reviews. Utilize a set of tools to address the search engine optimization and promotion of your corporate website.

ADD YOUR BUSINESS NOW, 100% FREE

see all listing advantages

Algeria is a state in Africa, bordered by Morocco, Mauritania, Mali, Niger, Libya, Tunisia.

Total area: 2,382,000 km².

Population - 42,23 million (2018), the world's 34th country.

Ethnic composition of the population of Algeria: the main ethnic groups that make up the Algerian nation are Arabs and Berbers (Kabil, Shavia, Berbers of Oases, Tuaregs) - 99%, as well as French - 1%.

The official language of Algeria is Arabic.

The country has access to the sea.

Capital - Algeria, 3,335,418 (2012). Five largest cities: Oran - 641,240 (2012), Constantine - 465,138 (2012), Djelfa - 373,547 (2012), Batna - 324,897 (2012), Setif - 324,502 (2012).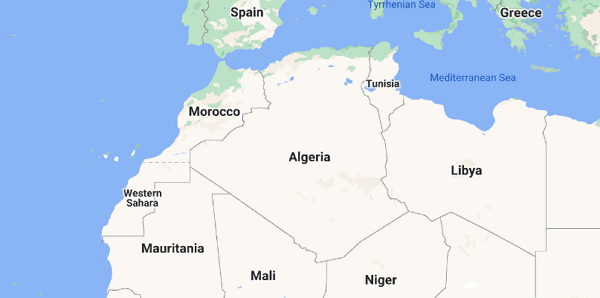 Algeria Map



Economy. The Algeria's GDP is 170 USD bln. as of 2019, the annual GDP growth rate is around 0.3% (Q2 2019). The GDP per capita is 4711 USD (2019). GDP per capita (PPP) is 11 350 USD.

Annual inflation rate: 3.1% (Sep 2019). Unemployment rate: 11.7%

According to the World Bank's "Doing Business" rating, Algeria is ranked 157th among 190 countries. Currency: Algerian dinar.

The average salary in Algeria in 2020 was 36 000 Dinars (265 euros). The main sectors of the economy are the extraction of carbon raw materials (oil, natural gas), light industry, mining, electrical, petrochemical, food processing, and agriculture.

Exports: 9.38 billion USD (Mar 2019). Exports include commodities such as oil, natural gas and petroleum products, overall 97% (2009 est.)

Imports - 44.6 billion USD (2016).

Import items:
3.88% (1.78 billion USD): 1001 - Wheat and meslin.
3.63% (1.67 billion USD): 8703 - Cars and other motor vehicles designed principally for the transportation of people, including vans and racing cars.
3.48% (1.6 billion USD): 2710 - Petroleum and petroleum products obtained from bituminous minerals, other than crude; products not specified or included elsewhere, containing 70% or more of oil or oil products obtained from bituminous rocks, and these oil products are the main constituents of the preparations; waste oils
2.69% (1.23 billion USD): 0402 - Milk and cream, condensed or with added sugar or other sweeteners
2.53% (1.16 billion USD): 3004 - Medicines for therapeutic or prophylactic use, packaged in dosage forms
2.17% (999 million USD): 7304 - Pipes, tubes and hollow sections, seamless, of ferrous metals (excluding cast iron).
2.14% (988 million USD): 1701 - Cane or beet sugar and chemically pure sucrose, in solid state
2.02% (934 million USD): 7308 - Ferrous metal structures (other than prefabricated building structures of heading 9406) and parts thereof (for example, bridges and their sections, gateways, towers, lattice masts, roof structures, construction trusses, doors and windows and their frames, thresholds, corners
1.8% (829 million USD): 7207 - Semi-finished products of iron or non-alloy steel.
1.69% (778 million USD): 8525 - Transmitting apparatus for broadcasting or television, whether or not receiving, sound recording or reproducing apparatus; television cameras, digital cameras and camcorders
Five top companies in Algeria
Sonatrach (Société Nationale pour la Recherche, la Production, le Transport, la Transformation, et la Commercialisation des Hydrocarbures): Sonatrach is the national oil and gas company of Algeria. It is one of the largest oil and gas companies in Africa and plays a crucial role in Algeria's economy.
Sonelgaz (Société Nationale de l'Électricité et du Gaz): Sonelgaz is the state-owned utility company responsible for the generation, transmission, and distribution of electricity and natural gas in Algeria.
Air Algérie: Air Algérie is the national airline of Algeria and one of the largest airlines in Africa. It operates domestic and international flights.
Condor Electronics: Condor Electronics is a leading Algerian electronics and home appliances company. It manufactures a wide range of products, including televisions, refrigerators, and smartphones.
CEVITAL: CEVITAL is one of Algeria's largest privately-owned conglomerates with interests in various industries, including agribusiness, industry, and services. It is one of the country's most diversified companies.
Three top banks in Algeria
Banque Nationale d'Algerie is the oldest bank in Algeria, founded in 1966. The bank serves organizations and individuals, provides a wide range of financial services, and insurance products. It has 214 branches and its own ATM network.
Banque Exterieure d'Algerie is the largest bank in Algeria and one of the largest in Africa. It operates in the areas of financing the national economy, small and medium-sized businesses, and servicing private clients. The bank offers electronic banking, payment cards, and e-payments.
Banque de l'Agriculture et du Developpement Rural is a universal bank dedicated to the development of agriculture. Founded in 1982 as a joint stock company, it is engaged in crediting business operations, serving corporate clients via over 300 branches.

Neighboring Countries

Libya Business Directory
Mali Business Directory
Mauritania Business Directory
Morocco Business Directory
Niger Business Directory
Tunisia Business Directory




---