Education is a lengthy process, ideally one for a lifetime. People spend a big part of their lives trying to 1) accumulate a certain amount of skills and knowledge as the initial stage at school or college/university 2) do their best to keep up to existing professional development and growth requirements during their career and work. In this whole process, the initial stage of schooling is vitally important as it is then that a boy or a girl is given a launch and inertia that keeps the wheels rolling during the rest of their lives.
Student and Tutor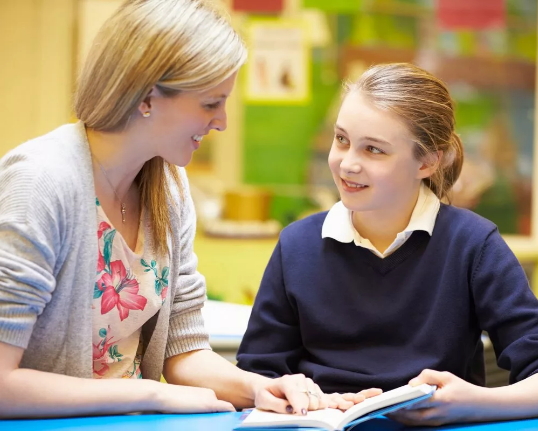 Schooling takes years, and during all those years the student needs to show incessantly good or fair learning results. On this lengthy path, there may be moments when boys or girls find themselves in times of trouble or weakness. This may happen due to a sick leave from school leading to the general lagging behind the other students in the class; or problems with a certain subject because people cannot be equally good at everything, or even problems in personal relations with a teacher. It is this decisive moment where parents should intervene and try to support their child in coping with the problem. A solution that has been in place for years is tutoring. Finding a tutor and arranging additional classes for a student may help resolve the above problems, give him/her better chances to keep up with the competition or even deliver greater comparative advantages over the other students in the class.
In short, getting a tutor for your son or daughter, if done properly, will help achieve the following advantages:
* Resolve immediate problems in the schooling process in any;
* Help the student keep up with the current curriculum if he or she is lagging behind due to whatever reason;
* Improve grades in a certain subject or group of subjects and build more confidence in the student;
* Relieve the burden from the parents who have to struggle their daily activities;
* Give the student a broader perspective and new learning approaches as he or she meets a new teacher and new learning methods to explore;
* Based on an individual approach, pay more time and attention to the student's needs than it can ever be paid at school.
To properly utilize the above advantages of tutoring, it is extremely important to find the right tutor in your vicinity. A professional, who is to be entrusted with the task of helping your kid, must be the best in the industry, have good reputation and nice personality. Briefly, the tutor should meet the below requirements:
* Offer best teaching techniques and methods
* Be a nice person, kind and willing to help
* Offer attractive rates
* Be conveniently located and easily reached for the kid and parents.
We strongly believe that this task should be done with the help of true professionals. In Canada, finding the right tutor can be done via a specialized agency, such as Gettatutor. Our agency specializes in delivering the best quality tutorship in various cities of Canada. For example, you can find a Calgary tutor for your kid if you live in town or nearby with no hassle. All you need is to call or send us a message via our website.