| | | | |
| --- | --- | --- | --- |
| | users: 17374 | | companies: 12512 |
Get more clients from Google Ads at ZERO cost
See below how to get your business site on top of Google search using Google Ads and pay nothing.



Google Ads is known as a working way to get more clients & customers into your business from the Web and flow of meaningful traffic from the Google search or partner sites. There is, however, a problem: it is a PPC system, that is, PAY-PER-CLICK advertising. It means that you have to pay every time somebody clicks on your ads.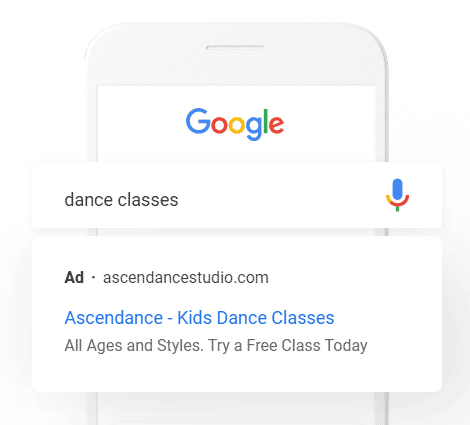 Google Ads for Business

The Google Ads cost can be significant, from hundreds to thousands of dollars per month. It can be hard to pay, especially for a small business, or if there is high competition in your area of activity.



Bizpages offers a method to run Google Ads campaigns at zero cost. It is called IGAS - Invest in Google Ads Service. See how it works below.
What you do
STEP 1.
Add your business to Bizpages with all details. It is 100% free. This data will then be used to launch a Google Ads campaign. Click to start adding your business now
STEP 2.
See the

CALCULATOR

to determine the amount that needs to be deposited to reach your required advertising monthly budget.
STEP 3.
Make a deposit with Bizpages for a certain period of time, usually from 120 days to 1 year.
STEP 4.
Tell us to start a Google Ads campaign for a needed period of time with this monthly budget.
STEP 5.
Tell us to end your campaign as needed and get your FULL DEPOSIT BACK.
What we will do
| | |
| --- | --- |
| STEP 1. | Accept the deposit and invest the funds into a number of highly profitable business activities. |
| STEP 2. | Launch a new campaign in our Google Ads Account for your business, including: 1) collecting keywords 2) identifying geo and language settings 3) creating nicely looking ads and 4) starting showing the ads |
| STEP 3. | Use the return on investment to cover the cost of your advertising campaign |
| STEP 4. | Deliver monthly reports from Google Ads covering Clicks, Impressions, Average Cost-Per-Click and total Cost. |
| STEP 5. | Return the FULL AMOUNT of the deposit when the chosen Google Ads campaign period is over. |
Invest in Google Ads Calculator

I am ready to deposit the amount of
USD
for a period of
to reach a monthly Google Ads budget of
USD
Daily spending on Google Ads:

0

USD
Number of clicks/potential clients per day:

0

Total amount that will be spent on your advertising over the period of

0

months:

0

USD
Use the form below to ask about the Invest in Google Ads Service